M.S. in Quantitative Economics
The Master of Science in Quantitative Economics (MSQE) degree can be completed in as little as one year, emphasizes practical applications and interactive learning, is a STEM designated degree, and includes close collaboration with members of a world-class economics faculty and forecasting team.
The program has been designated as a Certified Forecaster Program by The International Institute of Forecasters (IIF), and is ranked 6th in the nation for the 2019 Top Master of Financial Economics Programs.
The program's sister organization, CERF, is one of only six university-based forecast centers in the country that is included in the Wall Street Journal's Economic Forecasting Survey.
Want to learn more?
Let us know you're interested and we'll reach out to answer your questions. You'll also receive more information about the program and your financial aid options.
Loading...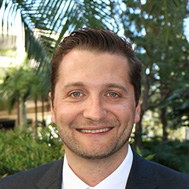 The MSQE puts a strong emphasis on math, more so than most similar programs would. Working as an Investment Manager at Ameriprise Financial, responsible for analyzing products and investment opportunities, the strong quantitative base from Cal Lutheran makes it easy to decipher what's snake oil and what's not.
Vedran Kaluderovic
Investment Manager, Ameriprise Financial